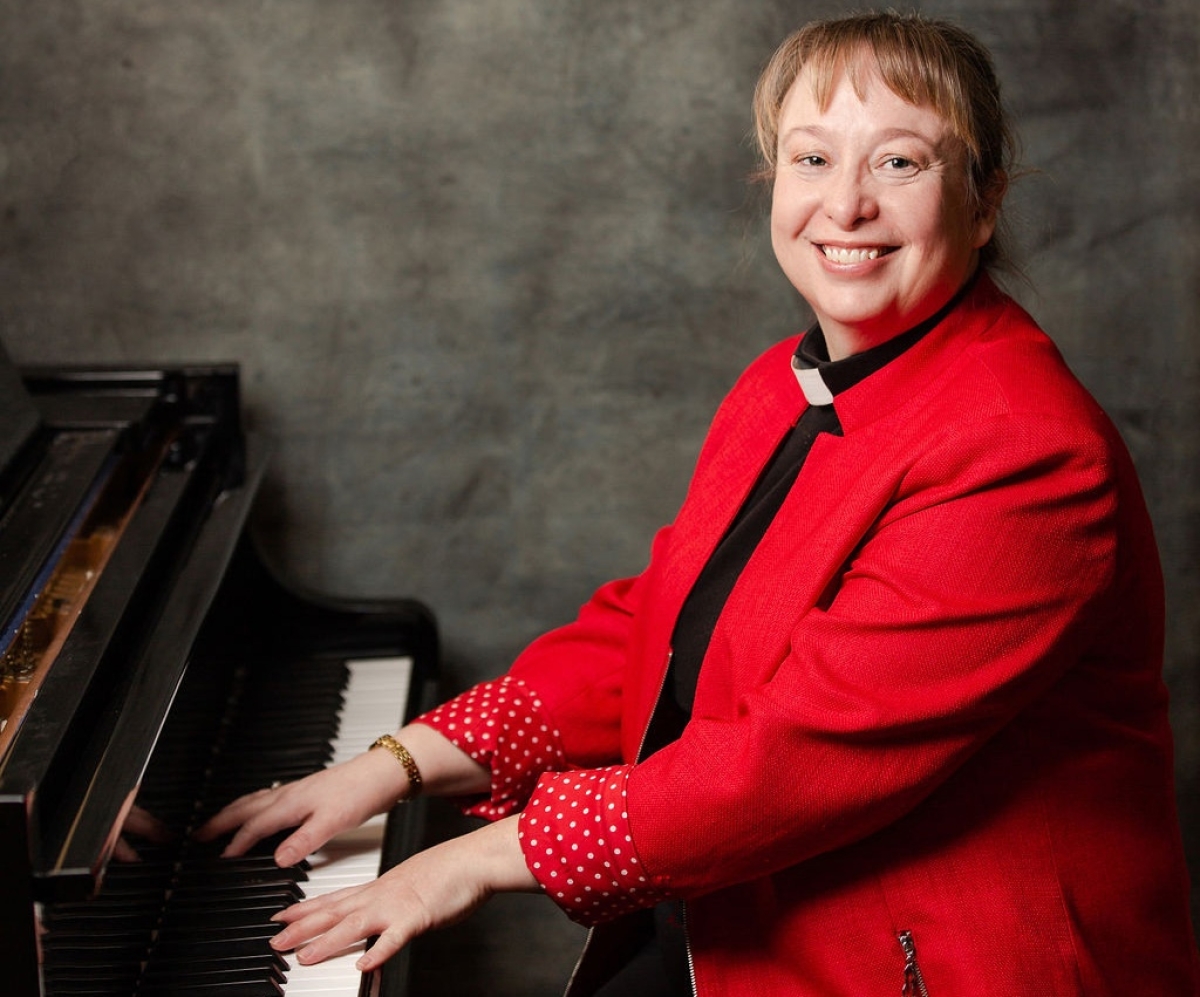 Mind, Body and Spirit. This is the holistic approach to care that the community of Canterbury embraces. This year, as we prepare for the 3rd Annual Promise of Home Campaign, we are putting a spotlight on our Spiritual and Mental Health Care at Canterbury. These programs and integral staff are funded by donations and offered to the residents, their families, staff, and volunteers at no cost. To donate to this fund, please look for "The Heart of Canterbury" fund when the annual campaign launches on November 10th.
Mental Health at Canterbury
Sara Morin is Canterbury's new social worker. For the past 20 years Sara has worked in the field of geriatric social work in private practice, supporting seniors living independently in the community and has helped numerous families make the transition into care.
"Often I have found people really stabilize and perk up when they come here. The weight of making decisions, trying to manage their lives and a home and organizing care is a huge weight off their shoulders when they move here," says Sara. "At Canterbury we have an entire disciplinary team. We have a coordinated approach so the senior, and their families, don't have to organize all these piecemeal areas of care living on their own. They don't have to find someone to shovel the walks, fix a tap or organize home care. People can conserve their energy and spend time on the things they really love. Here you have time to live life, you don't have to manage it. We love helping seniors find a new lease on life at Canterbury," says Morin.
Sara will happily visit families and seniors out in the community to talk to them about what a transition to Canterbury could look and feel like for them.
"Just being a part of these conversations with families can be helpful because transitions can be hard for everyone. We're talking about moving from a home they've often been in for a long time and the idea of downsizing their life can seem so big. But I'll often have adult children tell me, they won't listen to us, but they will hear it better when you say it. It's hard to have your children trying to parent you, so I can be that professional who can talk to them about the pros and cons and break it down, one step at a time and be there so they don't have to do it all on their own," says Sara.

SPIRITUAL CARE AT CANTERBURY
"When I was first ordained - I was a curate at Christ Church and so I visited some of the parishioners that were here at Canterbury at that time," says Reverend Colleen Sanderson, Canterbury's brand new Spiritual Care Chaplain.
"I was always so struck by how welcoming the community here was and how it was a real feeling of home, and it was just different from any of the other long term care facilities I had been at in the city. And now being the Spiritual Care Chaplain here formally, I love that this is one big community and the residents really have a voice in how that plays out. It's just so unique and really just draws me to the community here."
Even from her youth, Reverend Colleen has always had a real calling to be an active member within the diocese. As a teen she participated in summer camps and youth ministry and had contemplated being ordained.
She spent 3 years in seminary in Toronto and in that time, while training to be a priest she worked in hospital, she did inter-ministry in many communities after that and eventually found herself with a rectorship at St. Michael & All Angels Anglican Church in Edmonton. As part of her position there she visits and does communion for residents in 6 other long-term care centres.
I just really enjoy doing ministry with seniors and have been really concerned with seniors and the pandemic and all the things that have gone on inside a lot of long term care facilities across Canada. I think seniors have an amazing life story and a gift to bring to the community and we often shut them away in long term care centres. I think it's really important that there is someone who can heartheir life stories. So when I saw the position here at Canterbury, I thought I could be of help and of service to the residents and the staff in a really difficult time."
Since arriving at Canterbury, Reverend Colleen has spent her time visiting with the seniors to make sure they have a visitor everyday, to make sure they know they aren't alone. She's been able to be there for a family, who lost their mother unexpectedly and has plans to implement a brand new & uniquely designed worship service inside the brand new and expanded Canterbury Lane, where residents receive memory and dementia care support unlike anything else offered in Edmonton. She also hopes she can support the staff who have worked tirelessly through COVID restrictions and give them training to better prepare families for end of life conversation and experiences.
"I would like to develop spiritual programs for the staff. For example, I am organizing a blessing of hands for all the staff. We use our hands to do ordinary tasks, and God takes the ordinary and through his blessings makes it extraordinary for those we serve."
But more than anything Reverend Colleen just wants to be able to support Canterbury - its residents, families and staff, in the strong community it has already built.
"I love community. I think it is so important to have healthy community especially at this time in a resident's life. I love journeying with people through the high moments and the low moments. From birth to death, it is just a privilege to be invited into that space to journey with people."
To donate to "The Heart of Canterbury" stay tuned for our 3rd Annual Promise of Home Campaign, which launches on November 10th.