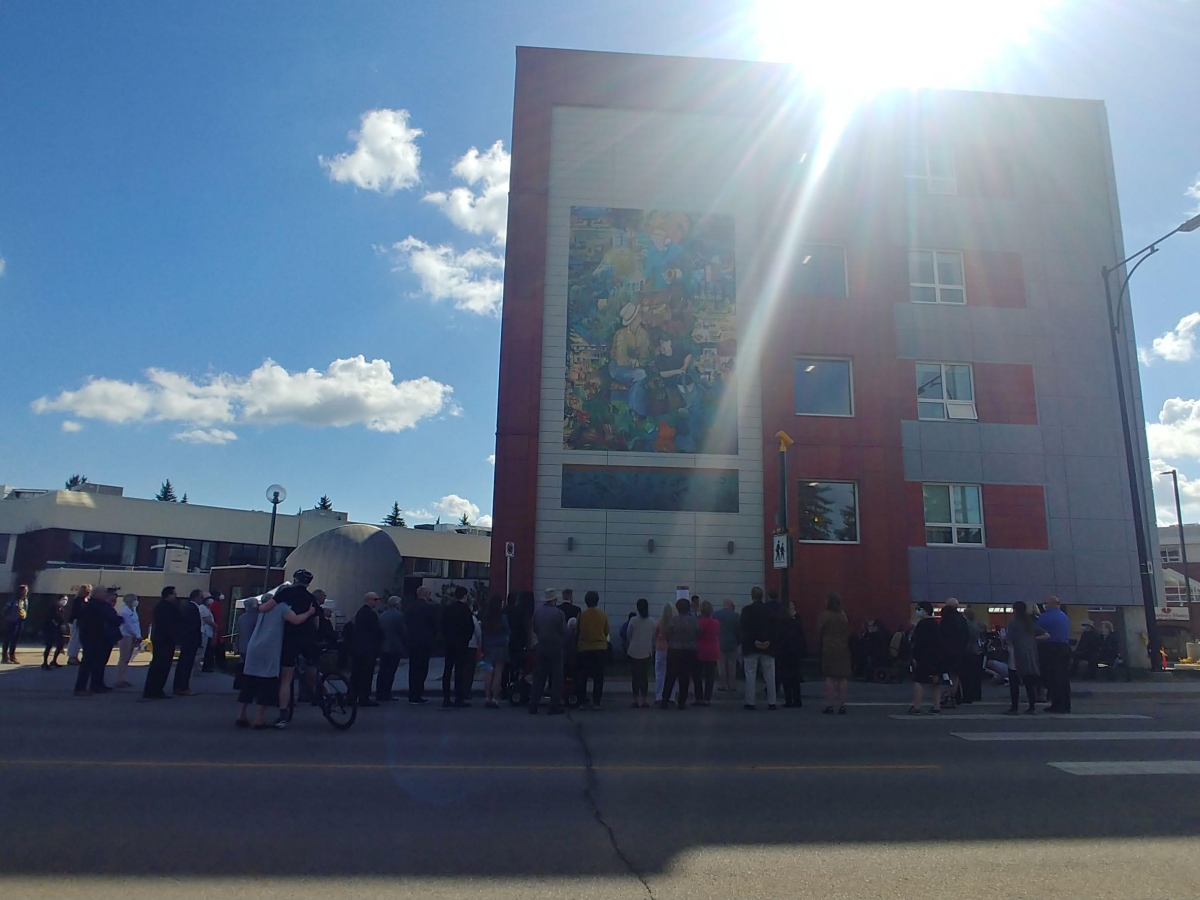 Under a beautiful blue sky on May 26, 2022, our full Canterbury Foundation family, along with the community of Laurier Heights, our donors and friends, joined together on the front sidewalk of Canterbury to finally celebrate the opening of Canterbury Heights.
Canterbury's brand new 5 story expansion is open and is already home to many of our seniors.
On the outside of the Heights building, Canterbury also unveiled its brand new Intergenerational Community Garden mural. The mural was designed with input from the entire Laurier Heights community, our residents and staff. Artist Jill Thomson was on hand to unveil the beautiful mural for everyone in the community to now enjoy. The mural has a tie to the land with the North Saskatchewan river flowing from top to bottom, and showcases all the elements that make Laurier Heights a wonderful community to live, full of diversity and inter-generations from Grandmother on down to a child.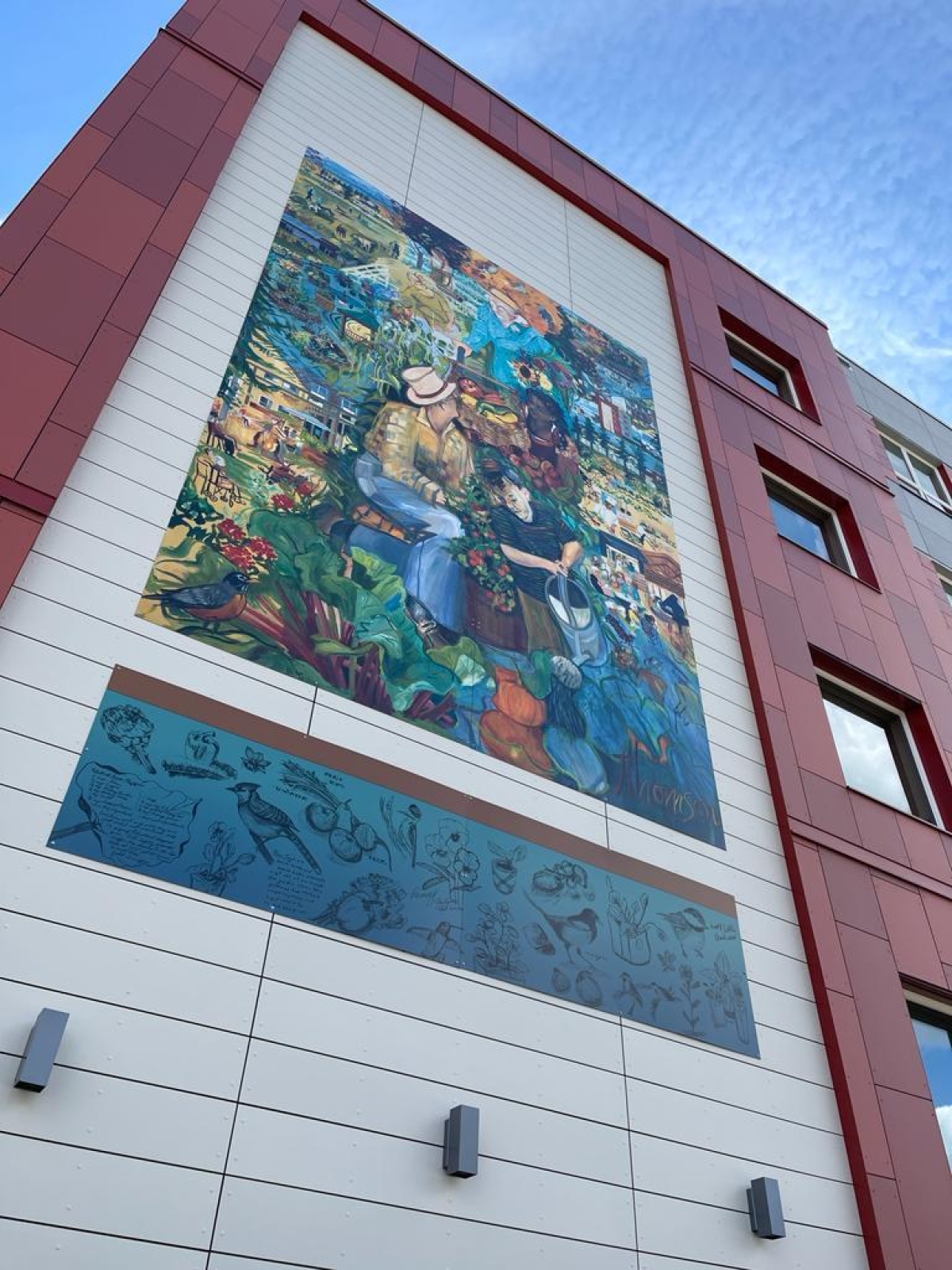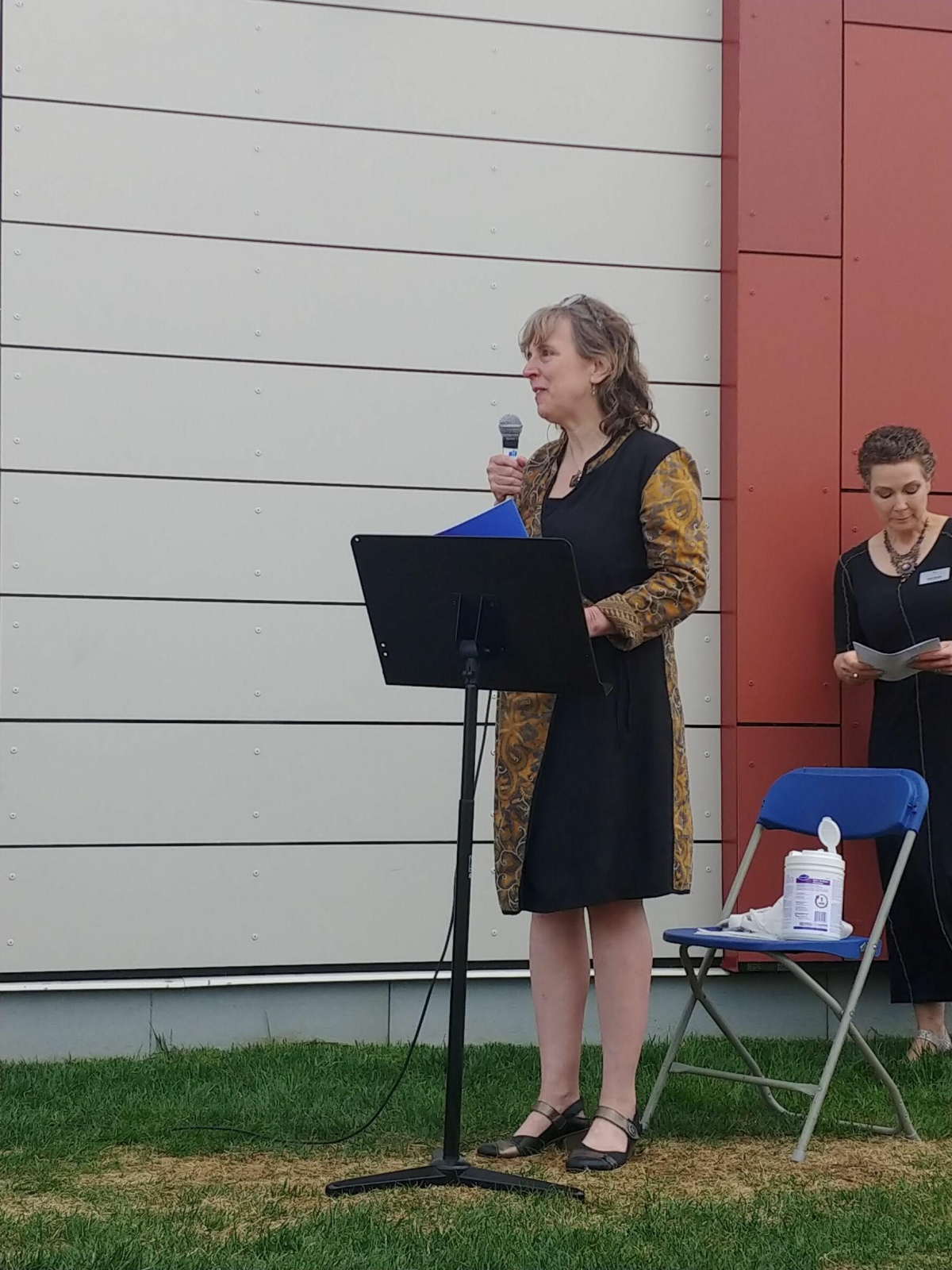 "This mural is meant for everyone to enjoy, and serves as a legacy of Laurier's past, present and future generations. This project is meant to connect Canterbury to its community, where many of its residents have spent many years of their lives. It was a privilege to get to be part of it," says Jill Thomson.
The building was also blessed by Priest Travis Enright, the Archdeacon for Indigenous Ministries with the Anglican Diocese of Edmonton.
"We live in a community that is built and rooted in generations since time immemorial," said Priest Enright as he lit some sage and began to smudge the building and say a prayer for all the seniors within Canterbury and the community that surrounds it.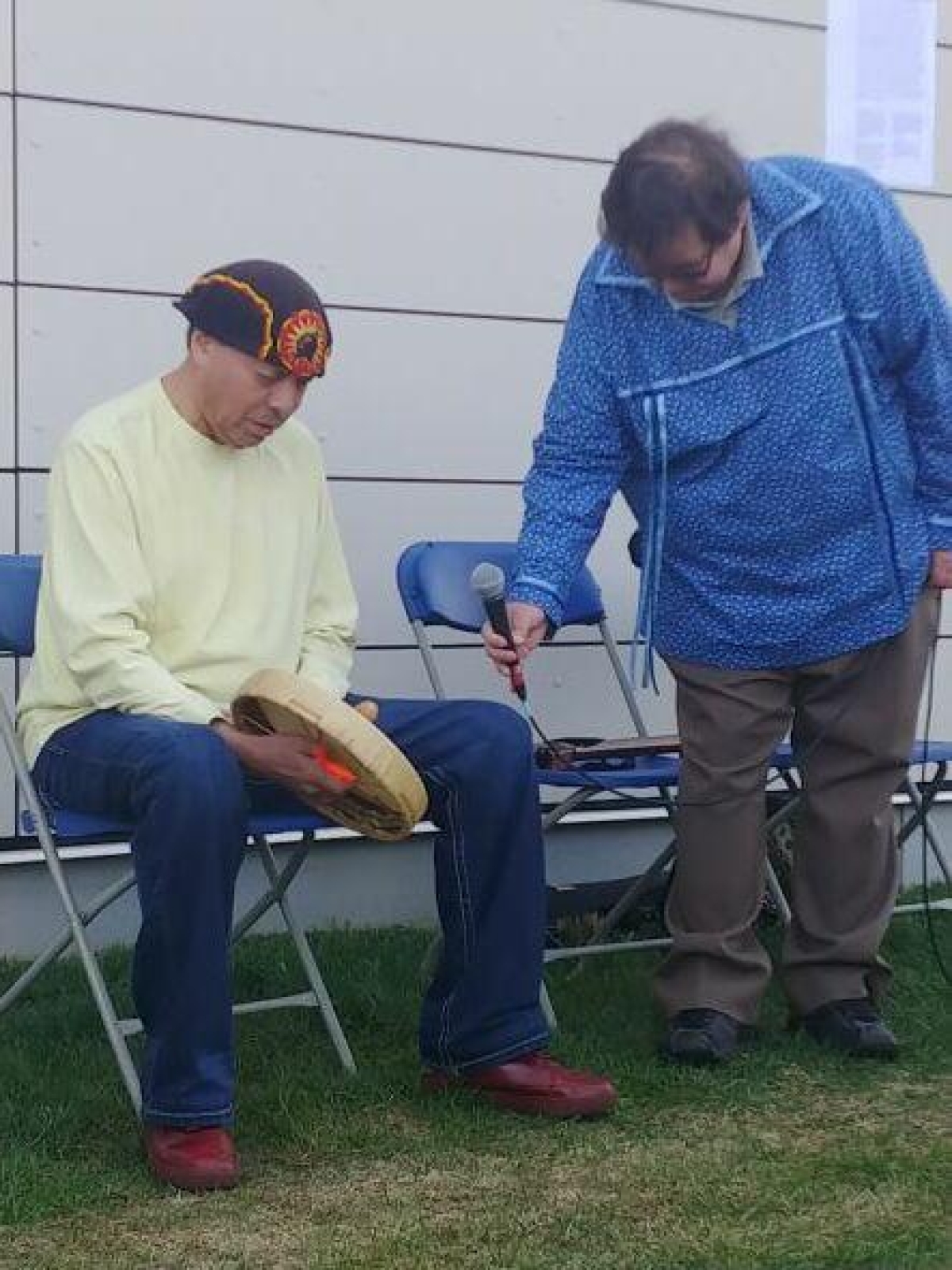 Priest Enright's friend and colleague, Russell Auger, an Elder with more than 40 years experience working with indigenous youth and communities, lent his musical talents to the ceremony and sang the Creator song and accompanied by his drum. He shared the song's meaning and its connection to the Creator in asking Creator for the guidance of how we should live our life each day.
It was in June 2019 that seniors, resident families, members of the media, care professionals and politicians gathered on the front lawn of Canterbury Foundation and broke ground on the $42 million dollar renovation and expansion project that included the brand new 50 suite tower - adding more studio, one bedroom and 2 bedroom suites; as well as began to fully renovate the current 45 year old facility, expanding Canterbury's current dementia care program from 20 to 53 much needed spaces and adding an eventual residential skilled nursing and end of life care wing.
Phase one of that expansion project is now complete with just half the brand new memory care wing open to residents - and with the remainder of the wing set to be completed in Fall 2022. 
The work of the expansion started on the cusp of the COVID 19 pandemic, which made undertaking construction incredibly difficult. To see the building come to fruition is a day of true celebration. 
Mary Paul is the Canterbury Foundation's Board Chair who has been part of the project's planning committee. 
"It's a celebration in so many ways of the people that work here, the residents that live here, the contractors who've been on site and dealing with all the challenges. So today we celebrate all of them. We celebrate with the donors, and we celebrate the perseverance to get this done during such a challenging time," says Paul.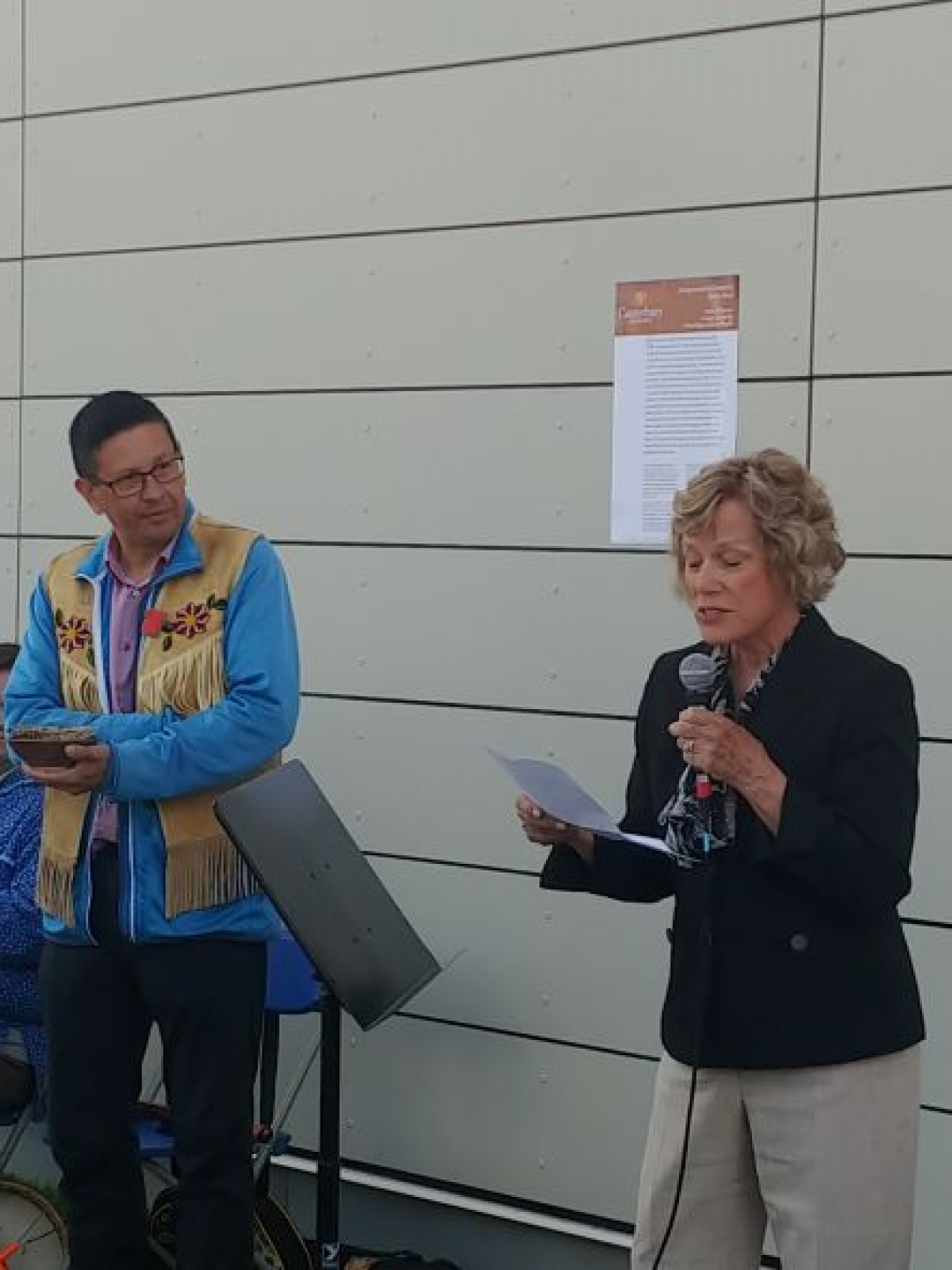 While the Height's opening is a physical reminder to all that Canterbury Foundation has done in the last decade, it's also a reminder of what Canterbury has had to overcome. And for Canterbury's CEO, Wendy King, celebration the opening was a good way to say good-bye to Canterbury, as she retires after a 10 year career. It's a place where she has fearlessly led through expansion, construction, fires and flood, through a pandemic and fought fiercely for the well-being of her residents and their families.
"We are so excited to see these renovations and our expansion come to fruition. It has been a lot of work and proved even more challenging thanks to COVID. But it is thanks to our build partner Stuart Olsen and the many donors and community supporters that we are now unveiling our new Canterbury Heights expansion," says Wendy King, CEO of Canterbury.
"We recognized that people are staying in their own homes longer which means they need different kinds of care when they finally make Canterbury home. These renovations were necessary to offer the kind of dementia and more supportive care that seniors in our city need. People come to Canterbury because of how we make them feel. They feel welcomed and cared for. We want to be able to say at the end of the day that we did this with the community. That we did this together. And that the community embraces our residents," says King.
For Diann Bowes, a member of the Canterbury Board, this expansion is a next step for an even brighter future for Canterbury.
"I think the future of Canterbury couldn't be better. We've got a beautiful new facility. We're doing so much work on making Canterbury Court and Canterbury Lane number one in its field. And our attention is now turning to the Manor and doing what we can to make it better than it's ever been. So the future's so bright here. "