The colours are bright and bold and there is a sense of peace as you walk through the doors of the brand new Memory Care Unit at Canterbury Foundation - a seniors living facility in Edmonton.
Two years ago Canterbury embarked on a 42 million dollar expansion and renovation project that turned a 47 year old building into one of the most innovative seniors care centres - complete with 53 new memory care spaces. It is rich with imagery, muraled walls, outdoor garden space and walking loop, all designed to help seniors with dementia have a sense of place, belonging and memory support.
Scott Belamisca has been on the Canterbury Foundation Board for the past 10 years. As the former Chair, today he feels nothing but pride.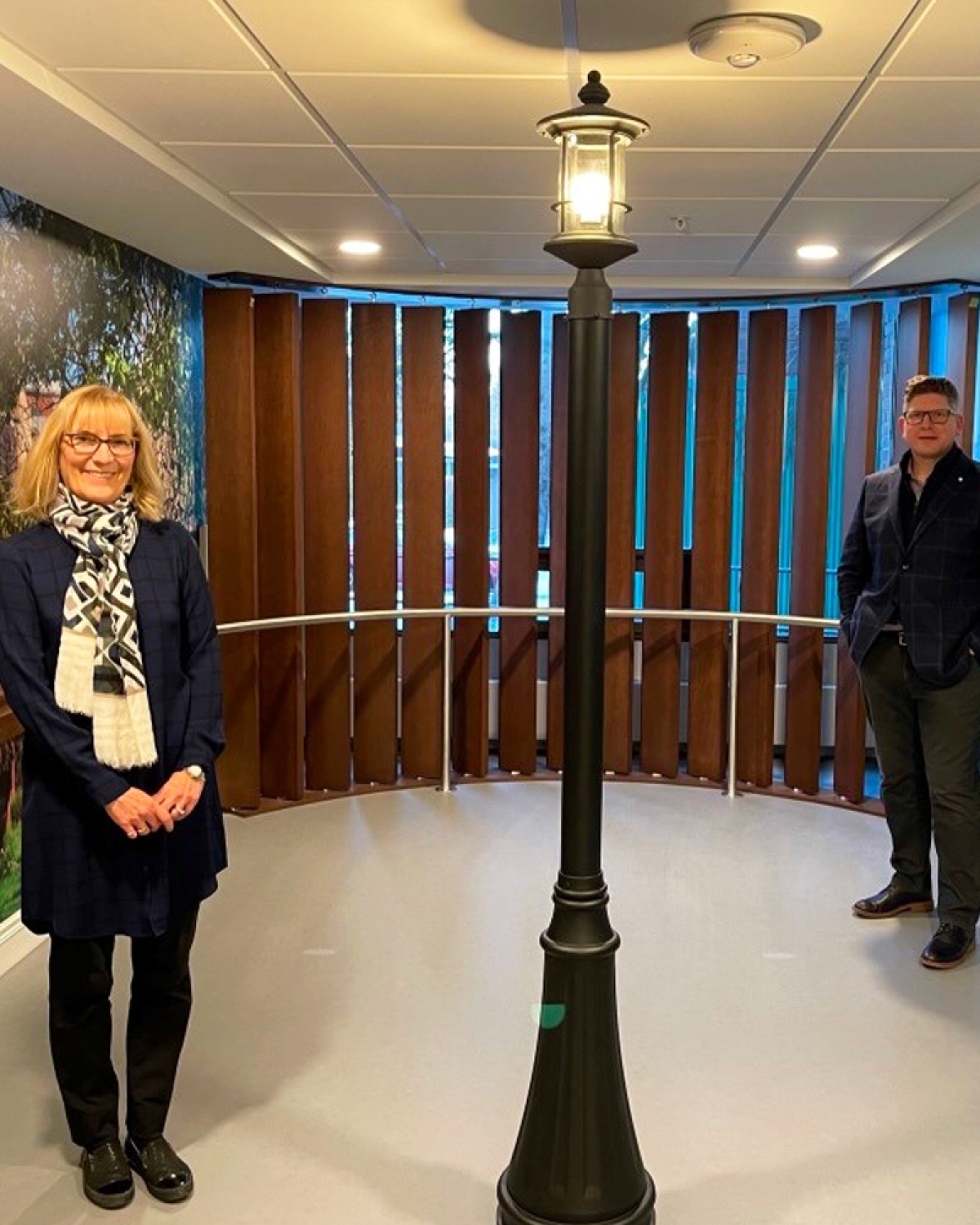 "It gives you goosebumps. We have been able to accomplish something that is unique to Edmonton, unique to Canada," says Scott.
It was June 2019 that Canterbury Foundation officially broke ground on the project. For Scott Belamisca it is a day he will never forget.
"When I was treasurer at Christ Church, one of our past chairs used to say – we have to have faith that the numbers will come together. After the sod turning event we signed the contract for the expansion. There was a whole lot that could have gone wrong, but we have a strong board, a strong executive leadership team and so we made that leap of faith. And look at what we've now accomplished. It's incredible," says Scott.
Jo-Ann Sherlock laughs as she listens to Scott describe that day. For her it was an even bigger leap of faith.
"My very first board meeting was where we had to vote to go ahead with the expansion and renovation and obviously it was a very large amount of money. But I had to have faith that the people who had been on the board had done all the background work because it did sound like such a great project that I wish had been available to my mother when she needed it," says Jo-Ann.
Jo-Ann Sherlock's mother lived at Canterbury for 6 years and loved her time there. However, as her care needs grew, she was forced to move to long term care.
"She never wanted to leave Canterbury. So a lot of these forward moves with the new build, end-of-life and enhanced care, the memory care wing – were all things that I could see would have really benefited my mother. Part of my interest in being a member of the Canterbury board was to give back, because my mother loved living here."
The Canterbury Foundation Board of Directors is made up of members of the Anglican church. One must be a member to join the board. But as the work of the board has evolved over the years and as our city has begun to change, so have the Board's needs. So Canterbury has created a nomination committee to actively recruit Board and Foundation members who will help take Canterbury into the future.
"Whereas before we would accept applications from members of the church, now we are being far more proactive with recruitment. We've engaged the Bishop and Executive Council and asked, 'Who are your most engaged parishes? Who in the church do you think we should know to help us from a volunteer, donor, and resident perspective?' We're looking at what we need in terms of Board member skill set - but also ensuring we are more diverse and inclusive in members," says Scott. "We are looking for diversity in thoughts, cultures, experiences and backgrounds – to ensure that Canterbury reflects the diversity of our staff, our residents and our city. We want to be effective today and in the years to come. We believe our ability to be diverse and inclusive will ensure our robustness as an organization into the future," says Scott.
Scott and Jo-Ann hope members of the Anglican church can look at what Canterbury has built and feel a sense of pride. They hope members will want to be part of it and roll up their sleeves and lean into the big projects on the horizon at Canterbury.
"Personally I am excited to help build the Canterbury Outreach program and the enhanced end of life care at Canterbury. We are all aging and we will all need a place like Canterbury. You can be part of building that for the future," says Jo-Ann.
"I have gotten far more back than I have given," says Scott of his decade of volunteerism at Canterbury. "Take a leap of faith and look at yourself and ask how can I add value? The more you give -- the more you get back."
For more information on Canterbury Foundation and how to get involved please visit www.canterburyfoundation.com
The colours are bright and bold and there is a sense of peace as you walk through the doors of the brand new Memory Care Unit at Canterbury Foundation - a seniors living facility in Edmonton.