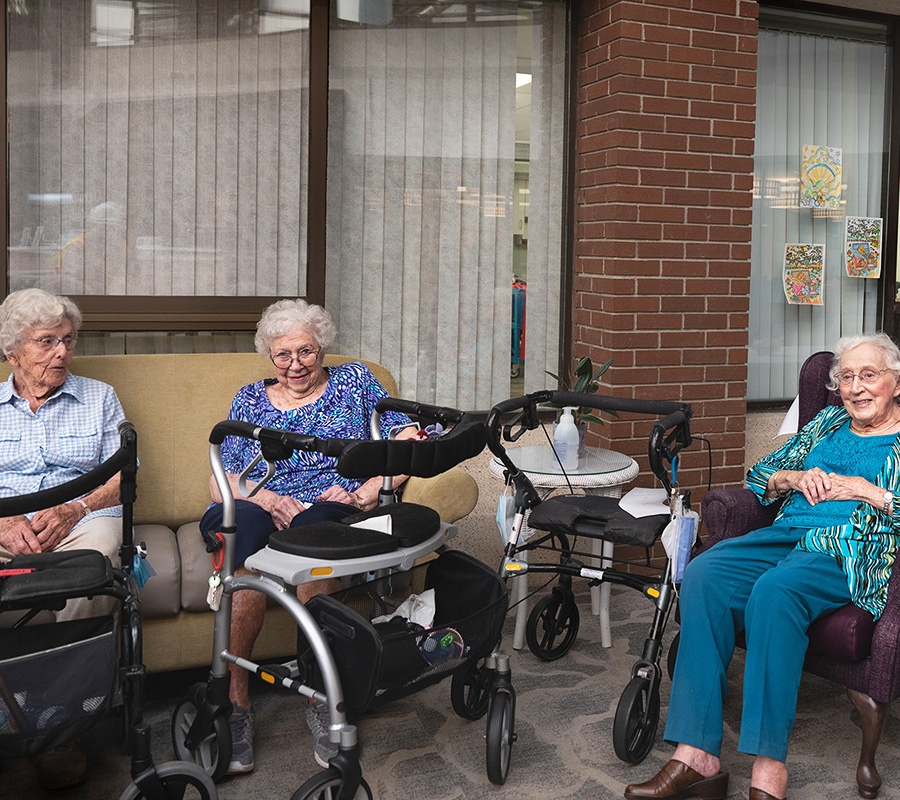 Inside the walls of Canterbury on any given day you can hear music playing, you can watch seniors and their families dancing, you can see the camaraderie between friends, and there is always an incredible smell of fresh baking or a roast stewing in an oven, wafting through the court. At the front desk there is always a welcoming smile to greet you upon entering Canterbury Foundation, a not-for-profit seniors care community in West Edmonton. And most often they know your name.
While Canterbury offers independent & assisted support along with its unique and respectful approach for dementia care in its brand new renovated memory care wing called the Lane, what Canterbury really offers seniors is the freedom to just live a carefree life.
After years of working & caring for all the needs and wants of our families, maybe building a career and tending to all the work that comes with owning a home, when we retire, our time becomes our own. We lean less into proving we can do everything ourselves and instead look for a more peaceful way to live.
That's been the reason so many seniors, like Adeline Filewych, chose life at Canterbury. While at first her husband did not want to leave his home and felt like he would be losing his independence in a communal seniors living environment, what they've now both discovered is they have even more freedom than they could have imagined.
"I raised 4 children and for years I entertained wonderful friends and hosted big parties. But now I'm tired and I have arthritis in my hands. It is not enjoyable to cook, care and maintain a home anymore. Here, I can go downstairs for meals and visit with friends. The food is incredible. I don't have to make food and clean up. I have so much more freedom since coming to Canterbury. I still get out and take the car and go spend time with friends outside Canterbury, but I have less of the burden that comes with maintaining a home. Coming to Canterbury was the best decision," says Adeline.
Canterbury Foundation makes life for seniors so much easier with their continuing care model. Home care, nursing care, dietary and meals, pharmacy, foot care, non-denominational church services and even counseling and social work are all on-site, with a wide variety of entertainment, life enrichment, programming, grocery delivery, and even a beauty salon all in one easy to access place. It takes all the work out of living so seniors can just live the life they want to lead.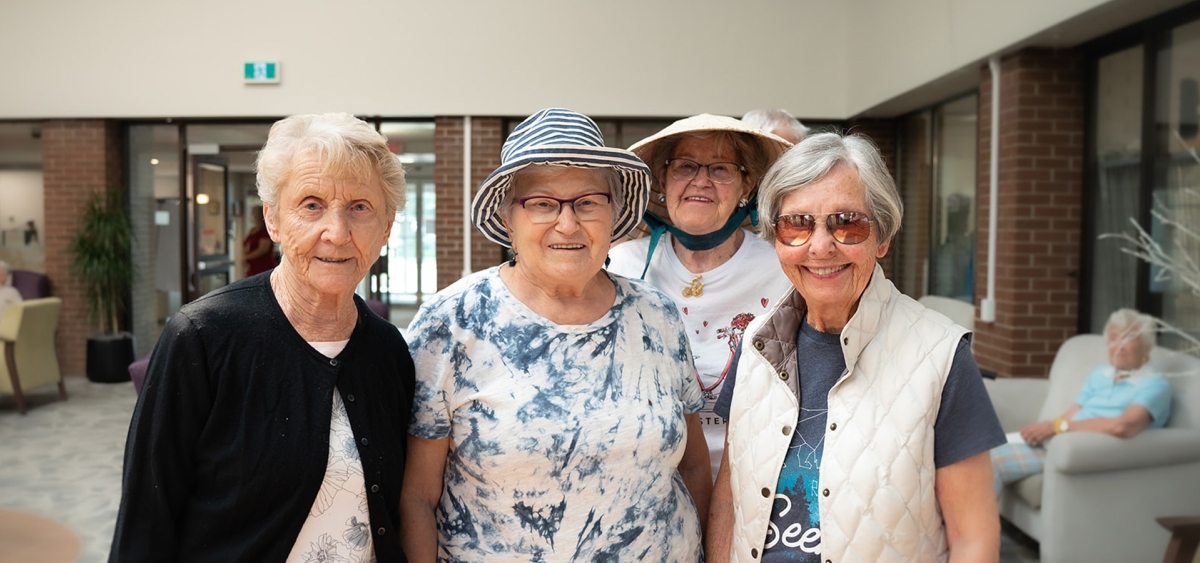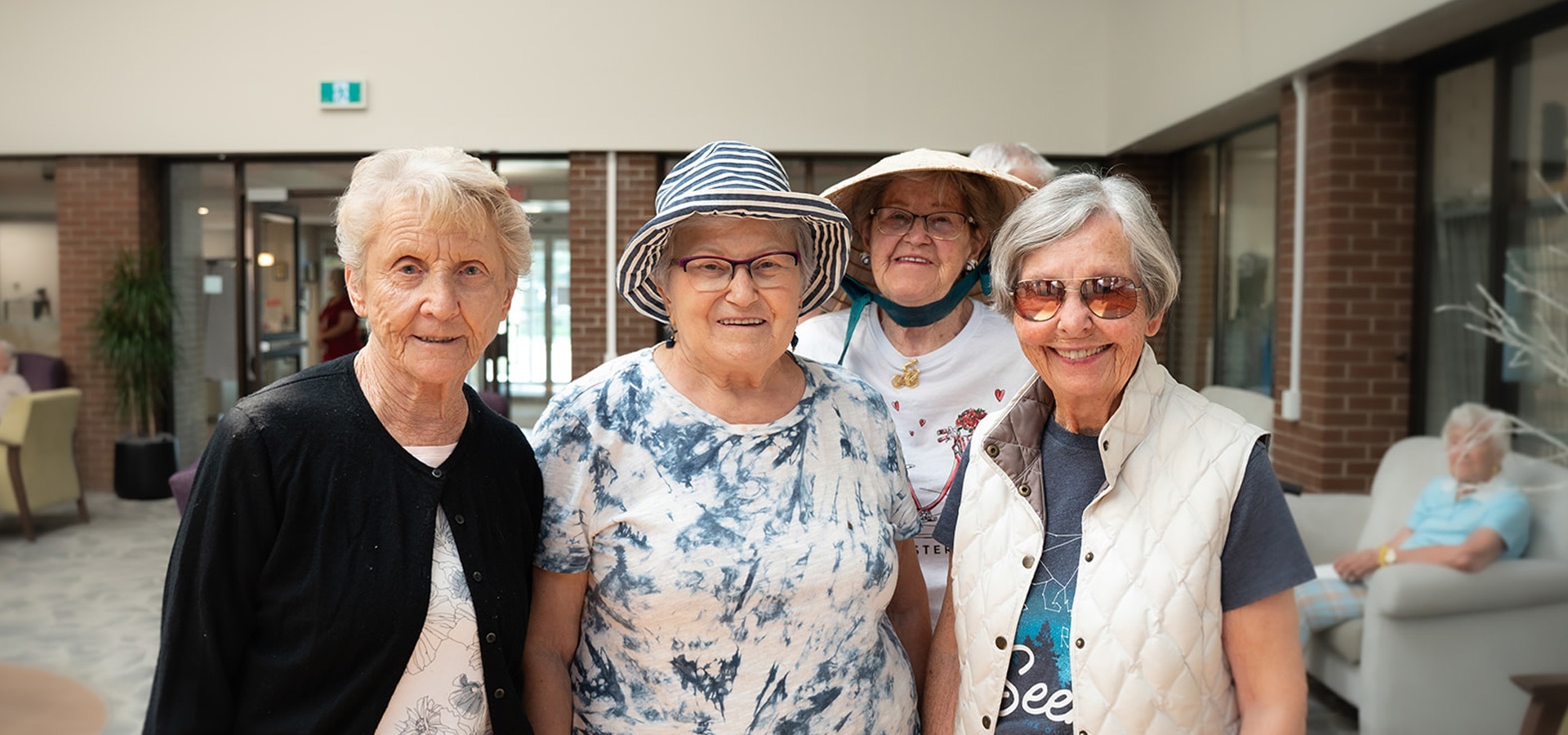 Sara Morin is Canterbury's brand new social worker. For the past 20 years Sara has worked in the field of geriatric social work in both private practice, supporting seniors living independently in the community and has helped numerous families make the transition into care.
"Often I have found people really stabilize and perk up when they come here. The weight of making decisions, trying to manage their lives and a home and organizing care is a huge weight off their shoulders when they move here," says Sara. "At Canterbury we have an entire disciplinary team. We have a coordinated approach so the senior, and their families, don't have to organize all these piecemeal areas of care living on their own. They don't have to find someone to shovel the walks, fix a tap or organize home care. People can conserve their energy and spend time on the things they really love. Here you have time to live life, you don't have to manage it. We love helping seniors find a new lease on life at Canterbury," says Morin.
Sara will happily visit families and seniors out in the community to talk to them about what a transition to Canterbury could look and feel like for them.
"Just being a part of these conversations with families can be helpful because transitions can be hard for everyone. We're talking about moving from a home they've often been in for a long time and the idea of downsizing their life can seem so big. But I'll often have adult children tell me, they won't listen to us, but they will hear it better when you say it. It's hard to have your children trying to parent you, so I can be that professional who can talk to them about the pros and cons and break it down, one step at a time and be there so they don't have to do it all on their own," says Sara.
For more information on Canterbury Foundation or to book a tour visit www.canterburyfoundation.com